10 units/bag
Regular price
Sale price
$15.49 USD
Unit price
per
Sale
Sold out
Elderberry & Honey lollipops to help soothe the symptoms of sore throat and cough. Artisanally crafted in small batches by using simple organic ingredients, our lollipops are perfect for on-the-go. Ease sore throat and coughs with these sweet organic homeopathic suckers.
*These statements have not been evaluated by the Food and Drug Administration. This product is not intended to diagnose, treat, cure or prevent any disease.
Share
Description

Made in the USA
For temporary relief of sore throat and cough symptoms to gently soothe discomfort. Made with Organic Elderberry and honey. Elderberry contains natural flavonoids that may help boost the immune symptoms. Organic honey is rich in the health-promoting plant compounds known as polyphenols. When combined with Organic Tapioca syrup they naturally sweeten our lollipops. These sweet suckers are all you need to aid coughs and soothe sore throats.*
Ingredients

Honey:
Honey is a complex sweet food with
well-established antimicrobial and antioxidant properties. It has been used for everything from sore throats to surface wounds, burns, and inflammation. Both the CDC and WHO (World Health Organization) have long recommended honey to
relieve sore throats for adults and children of age 1+.**


Elderberry:
Elderberry has been used for
millennia in folk remedies to aid in preventing and relieving fever and other symptoms of influenza. Clinical studies suggest that some elderberry extracts might reduce flu-like symptoms. The anthocyanins in elderberries are thought to
have immunomodulating effects and possibly antiviral and anti-inflammatory effects. Elderberry also contains a range of vitamins, including Vitamin A, C,
and potassium.*
Return policy

We stand by our products and if you don't completely love them, please let us know by emailing support@mommabearusa.com within 30 days of delivery and we'll give you a full refund. Note that depending on the day, it may take up to 24 hours to receive a response.
View full details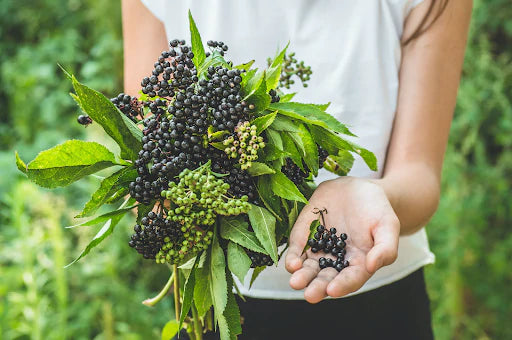 DID YOU KNOW THAT IN THE UNITED STATES ALONE, ABOUT 1 BILLION PEOPLE CATCH THE COMMON COLD A YEAR!
Between 2-11% of people report being "sick with a cold" on any given day. Common symptoms include a scratchy or sore throat, as well as a runny nose and/or a cough. Unfortunately, there is no cure for the common cold. This is because the cold is a virus with over 200 different types of strains. Still, there are studies that suggest some remedies do work. Staying hydrated, resting, drinking warm teas and using honey & elderberry are what work best for my family. OTC medications are typically our last resort. It is important you consult a physician if your symptoms are severe.* 
Cough Lollipops FAQs
What are cough lollipops?

Cough lollipops are specially formulated organic lollipops designed to help soothe a cough. They are not a cure, but rather a supportive aid in managing coughs and sore throats.
Who manufactures these cough lollipops?

These organic cough lollipops are manufactured by MommaBear Organics, a company known for their organic health products in the US.
What ingredients are in these cough lollipops?

The sore throat lollipops contain real pieces of elderberry and honey. These ingredients are known for their health benefits, including soothing a sore throat and supporting the immune system.

When it comes to providing relief from coughs and sore throats, our cough lollipops stand out due to their unique blend of natural, organic ingredients. Two key elements that set these lollipops apart are the real pieces of elderberry and honey contained within each piece, providing not only a delightful flavor but also a host of health benefits.

Please remember that while these lollipops offer a natural and organic aid, they are not a substitute for professional medical advice or treatment, and you should always consult with a healthcare provider if you have any health concerns.

Elderberry in the Cough Lollipops

The elderberry, a plant native to many parts of the world, is recognized for its medicinal properties that have been utilized for centuries. The berries, which are incorporated into our lollipops, are packed with antioxidants and vitamins that can boost your immune system. They are known to fight inflammation and lessen stress, and might even help protect your heart. Some experts recommend elderberry to help prevent and ease cold and flu symptoms, making it an excellent ingredient in our cough lollipops.

In these lollipops, we use real pieces of elderberry, which means you're getting the full range of benefits from this powerful plant. We carefully source our elderberries to ensure they are organic and of the highest quality, maintaining the integrity and potency of the fruit.

Honey in the Cough Lollipops

Honey, our other key ingredient, is much more than a sweetener. It's a natural substance produced by bees and has been used in various cultures as a remedy for a multitude of health issues. When it comes to coughs and sore throats, honey is a powerhouse. Its thick consistency can coat the throat, providing a soothing effect for both dry and productive coughs. Moreover, it has potent antibacterial and antimicrobial properties, which can assist in healing and reducing inflammation in the throat.

What's more, honey is packed with beneficial compounds like antioxidants, enzymes, and nutrients. It is known to boost immunity and can provide a source of energy due to its natural sugars. For our cough lollipops, we use real honey, ensuring that these benefits are passed on to you with each soothing lick.
Are these cough lollipops organic?

Yes, the cough lollipops provided by MommaBear Organics USA are indeed organic. When we say "organic," we're referring to the rigorous standards and principles that are strictly adhered to during the manufacturing process of these products.

Non-GMO

The ingredients used in these cough lollipops are derived from natural sources, primarily real pieces of elderberry and honey. Elderberries are a rich source of vitamins and antioxidants, while honey, a natural sweetener, has long been celebrated for its potential soothing properties. Both of these ingredients are organically sourced, meaning they are grown without the use of synthetic fertilizers, pesticides, or genetically modified organisms (GMOs).

A key aspect of organic production is its commitment to promoting ecological balance and conserving biodiversity. Therefore, when you choose these organic cough lollipops, you're choosing a healthier option for your body but also for the planet.

No Additives

These cough lollipops are free from artificial additives and preservatives. In many conventional products, you might find a long list of ingredients that are difficult to pronounce, let alone understand. These can include artificial flavors, colors, and other additives that may not be beneficial for your health. However, with these organic cough lollipops, what you see is what you get – simple, natural ingredients designed to soothe your cough and comfort your throat.

Cough Lollipops Made to the Highest Standards

It's important to note that these lollipops are made from organic ingredients but are also processed in a manner that meets organic standards. This ensures that at every step of the production process, from the sourcing of ingredients to the final product, the integrity of the organic claim is maintained.

So, when you choose these organic cough lollipops, you're choosing a product that can help soothe your throat and alleviate your cough, but you're also making a choice that supports sustainable farming practices and promotes a healthier lifestyle.
Who can use these cough lollipops?

These organic cough lollipops are safe for everyone over the age of 3 years. This includes toddlers, teenagers, and adults.
Can these lollipops help with a sore throat?

Yes, the honey and elderberry in the organic lollipops can help soothe a sore throat. They are often referred to as 'sore throat lollipops' for this reason.
How often can I use these cough lollipops?

You can use these lollipops as needed to help soothe a cough or sore throat. However, they are not a replacement for medical treatment if your symptoms persist or worsen.
Are these lollipops safe for kids?

Yes, these organic cough lollipops are safe for children over the age of 3 years. However, always supervise a child when they are consuming a lollipop to prevent choking.
Are there any side effects to these cough lollipops?

As with any product, it's possible to have an allergic reaction to the ingredients. If you or your child experiences any adverse effects after consuming a lollipop, discontinue use and seek medical attention.
Where can I buy these cough lollipops?